So, you are preparing for the ITIL 4 Foundation exam and you have had your fill of studying, but you still feel a bit unsure?
No worries, this article is here to help you.
In this article, I will tell you about the most important tips I usually share with my trainees before they take the exam.
So, you are preparing for the ITIL 4 Foundation exam and you have had your fill of studying, but you still feel a bit unsure?
No worries, this article is here to help you.
Below, I will tell you about the most important tips I usually share with my trainees before they take the exam.
These are suggestions, which are based on a mix of experiences I gathered while taking exams and while supervising the exams of many happy ITIL 4 Foundation certificate holders.
My name is Alex Schmidt, I am an PeopleCert and AXELOS accredited ITIL 4 trainer, exam proctor and Managing Professional. I have been in the IT Service Management sector for over a decade now and have been delivering ITIL training courses since 2013. but without further ado, let's have a look at the afore mentioned tips.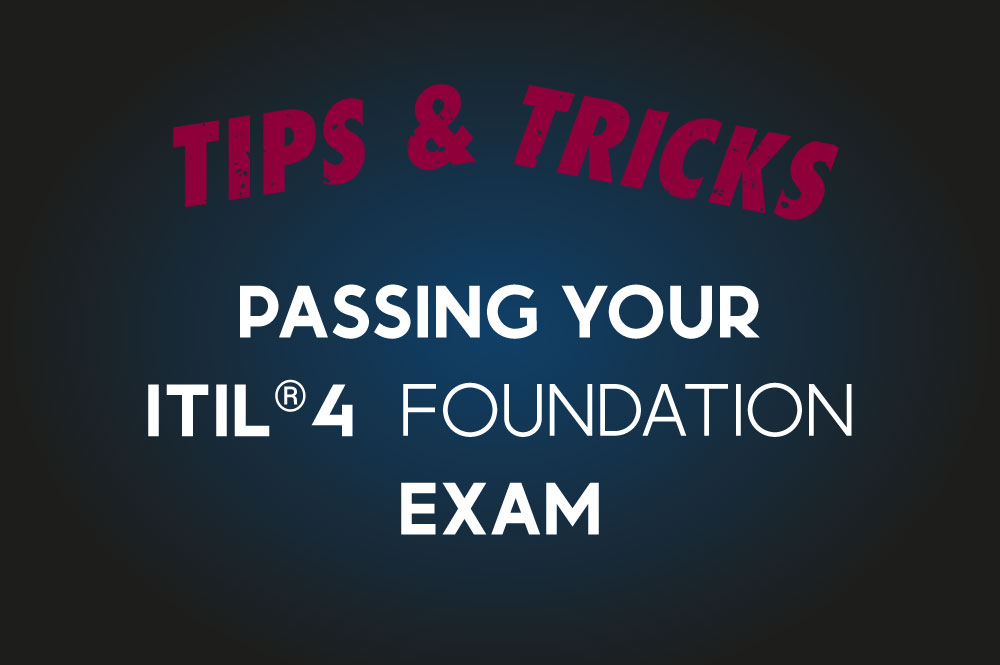 Tip #1 – Always apply the ITIL 4 logic
---
This is probably the most important tip.
Whenever, you find yourself in doubt, always think about what ITIL would "say".
The questions always expect answers that represent the ITIL way of things and not how one might answer based on real-life experiences.  Don't think about how stuff works in your organization or about how things were done in your past jobs. ITIL is all about the ideal world as described in the textbook and the exam questions are meant to check exactly that.
Also watch out for half answers, because the correct answers will always cover the whole questions, especially if the questions are worded like a small scenario.
For example:
A small service provider organization is experiencing bad customer reviews and declining employee satisfaction. What should the company do to remedy this situation?
The correct answer can only be one that talks about a solution for both the bad reviews and the employee dissatisfaction.
Tip #2 – Be careful with absolute answers
---
Because, as you might know, only Sith deal in absolutes.
Here we are talking about answers containing terms like "must", "mustn't", "always", "never" or similar.
You see, more often than not, ITIL is more about suggestions, it is not prescriptive, and therefore extreme answers might not be the correct ones.
For example, ITIL states that Service Request and their fulfilment "SHOULD" be standardized rather than "MUST" be standardized.
Tip #3 – Watch out for "NOT"s
---
This one seems rather obvious, nevertheless, I always like to highlight this before exams.
There are no trick questions in the ITIL 4 Foundation exam, but there will be negative questions. For example, "which is NOT the best definition of Service Management", or "what does NOT lie within the scope of the Change Enablement" practice".
As you can easily see, that "NOT" quickly renders the correct answer a different one. So watch out!
Tip #4 – Quick and dirty
---
This is probably one of the most effective techniques during any exam, not only the ITIL 4 Foundation one.
Do a quick run of all questions. Go through them one-by-one, answers the ones you know directly and go on to the next questions. If you need to think about a question a bit more, just leave it be for the time being. You always have the possibility to come back later and answer it.
Now once you have done the quick run, you see how much you already answered, which allows for a better management of the remaining time and answers.
People taking the exam in their native language get 60 minutes, which means 1.5 minutes per question.
Non-native speakers get 25% extra time, so 75 minutes, which means almost 2 minutes per question.
So, for this example's sake, let's assume, that you managed to answer 18 questions during the quick-run within 9 minutes (which might sound exaggerated, but believe me, it is totally possible. I have seen people taking and passing the exam in 12 minutes). Meaning, you have 22 questions to go and 51 minutes left as native and 66 as non-native speakers, upping your time per question to 2.31 minutes (native) or 3 whole minutes (non-native).
So you see, you can gain quite a lot of time if you concentrate your efforts on the easy questions first.
Tip #5 – Reading well is key
---
Read the questions thoroughly.
This might sound trivial, but you cannot imagine how many people have told me about this and how often I have actually made this same mistake as well.
Exam stress can have a different effect on any of us, but most people get hasty, especially when having a time constraint. So, they start flying over the questions, maybe misreading or misinterpreting them, which is obviously the shortest road to a wrong answer. But the same also applies for the answers. Read them well and make sure you understand them. A little "NOT" for example can make all the difference, but that was just discussed above.
Tip #6 – Identify wrong answers
---
This might be a good idea if the correct answer is not that obvious at first.
Imagine it like the 50-50 joker from Who wants to be a millionaire. Okay, not exactly, as you are not allowed to call anyone during the ITIL 4 Foundation exam, but sometime,  you look at some of the answers and know exactly, that those are incorrect, thus narrowing down the options for the potential correct answers. Use this trick in combination with #1 – The ITIL 4 logic and #2 – The absolute answers.
Tip #7 – Leave no one behind (empty)
---
Ideally, it should not come to this, especially if you followed #4 – Quick and dirty, but should you find yourself running out of time it might be a good idea to just select a random answer for the remaining questions. Luckily enough, wrong answers do not count as negative points, decreasing your exam score. Therefore, even a random answer is better than no answers, since you still have a not-so-slim 25% chance to get it right.
The ITIL 4 Foundation exam tool provided by PeopleCert does have a timer function and will remind you 15 minutes before end of the exam, so you should be covered, nevertheless, time flies when you have fun 🙂 so you should ensure that no questions stay unanswered. And if you really don't know the answers, just go for the longest option, which brings us to…
The bonus tip #8 – Longer is often better
---
This may not be the primary logic, I would apply when looking for the correct answers, especially if the answer options are terms, practice names or generally short things.
However, if the answers are explanations of something, and you have no idea, which the correct one is, you might want to go for the longest one. This is because ITIL has a tendency to embed the explanation of why it is correct within the answer itself. Also, longer answers mean a more precise explanation of how they are meant to solve certain challenges described in the questions.
Prepare for your ITIL 4 Foundation exam the right way!
---

Should you feel unsure about the material or should you need more mock exam questions, please have a look at our ITIL 4 Foundation eLearning course.
As an Accredited Training Organization (ATO) and official partner of PeopleCert and AXELOS, we have prepared an interactive eLearning training course for you, containing everything you need to know and spiced it with real-life examples, fun games and an engaging presentation divided into easily digestible, bite-sized videos
Conclusion
---
There might be many more good suggestions when it comes to the ITIL 4 Foundation exam or any other actually.
So, if you think something is missing from the list, we would very much appreciate if you could leave us a comment and we are happy to enhance it.
Otherwise, thanks a lot for staying till the end of this writing and feel free to get in touch with us, should you need any help or should you have questions.