Why do we call Agile those frameworks & methodologies coming from software development? Would Adaptive not be a better fit? Read to find why!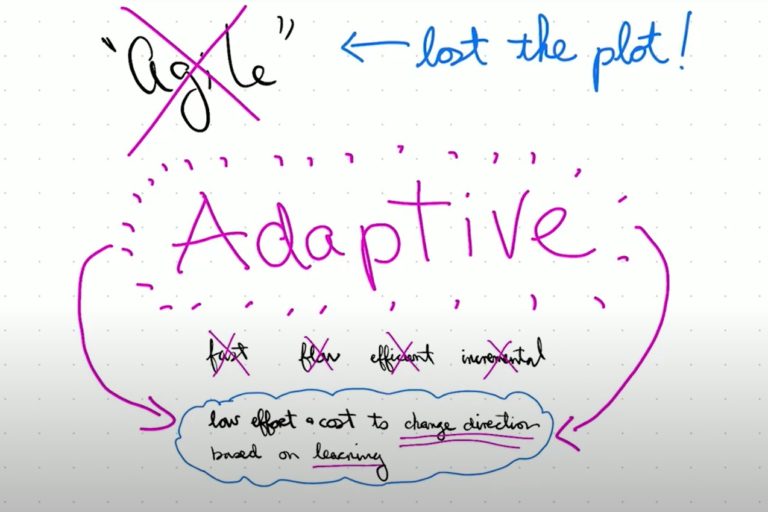 Agile should have been called Adaptive instead BUT….
…things turned out differently while 17 software development thinkers met in Snowbird ski resort, Utah in February 2001.

Most of us know that the "Agile" term commonly used to design new ways of working and developing iteratively and incrementally products or services originate from the "Agile Manifesto for software development". This document consists of 4 values and 12 principles as developed by its 17 founders.

Now the interesting part of the story is that when the values came out (principles were added after the gathering) an adjective had to be chosen for the said Manifesto. Several names were proposed besides Agile including Adaptive.
Adaptive instead of Agile
Adaptive actually reflected better what all those software methodologies represented by those leaders had in common. However, the vast majority of them were actually consultants and one of them (Jim Highsmith) had developed a method called "Adaptive Software Development". The logic of some voters was that if "Adaptive Manifesto" was to be chosen as a name, the resulting business would go to Jim and not to them. Hence, the reason why Agile (proposed by Mike Beedle) was actually selected over Adaptive…

There are a lot of rumors about the Agile Manifesto and interestingly, it is sometimes very difficult to get a proper recollection of the event by its participants. Maybe because only 8 of them stayed to create those 4 original values while others went skiing?
Now what is the source of this information?
Above information is from Craig Larman, the creator of Large Scale Scrum (LeSS). Craig was actually not part of the gathering but he was part of the original list of attendees. He had to pull out at the last minute due to an urgent client meeting.

Craig interviewed some of the participants of the Agile Manifesto after its creation as he know them personally. He never disclosed this information publicly till only recently. But why only now? As Jim Highsmith is retiring and is therefore no longer in business, Craig thought it was now a good time to disclose this information….

See more info at:
https://youtu.be/o_4z-dfA6PY?t=449
What does Jim Highsmith has to say about this?
I asked the question directly to Jim Highsmith during the month of May 2023 and here was his answer.
So, myth or fact about the Agile Manifesto being Adaptive instead?
I let you judge…