The official ITIL 4 Foundation Candidate Syllabus describes the most important topics for the ITIL4 Foundation exam and explains how many questions to expect per topic.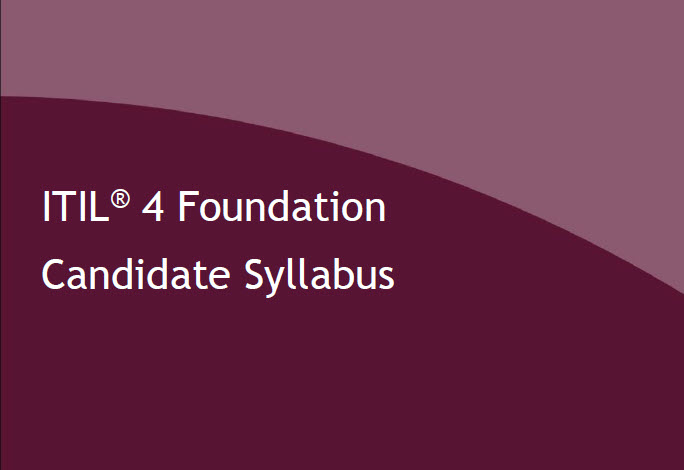 Exam Overview
---
This section of the syllabus talks about some generic information regarding the exam, including:
The exam time, which is 60 minutes, but non-native English speakers get 25% (15 minutes) extra time
No material is allowed, as it is a closed-book exam
The number of total points (40) and the number needed to pass (26), which is 65%
The question types, which we will cover below
And the Bloom's level of the questions, a.k.a. the difficulty level
Here are the question types you can expect on the exam
---
Standard
What is the best definition of XYZ?
Definition 1
Definition 2
Definition 3
Definition 4
List
Which statements about XYZ are CORRECT?
Statement 1
Statement 2
Statement 3
Statement 4
1 and 2
2 and 3
3 and 4
1 and 4
Missing word
A [?] defines the requirements for services to be provided by a service provider.
Option 1
Option 2
Option 3
Option 4
Negative
Which is NOT the defined area of value for…?
Answer 1
Answer 2
Answer 3
Answer 4
Note: negative questions are only used as an exception where the course tries to highlight that something should not be done.
The actual ITIL 4 Foundation exam syllabus
---
Here is the good part, where it actually gets interesting, as this section provides an accurate picture of what you need to know and which topics are most important for the ITIL 4 Foundation exam.
Bloom's Levels
Since the ITIL 4 Foundation exam is an entry level exam, all questions are on Bloom's Level 1 and 2 (Memorization and basic understanding). We have put a little summary below, but for more details, you might want to have a look at this great writing.
Level 1 – Remember (9 questions)
Retrieve, recall, or recognize relevant knowledge from long-term memory (e.g. correct definitions of terms or the purpose of the ITIL 4 Practices)
Level 2 – Understand (31 questions)
Demonstrate comprehension through one or more forms of explanation (e.g. know how different Practice should applied or know the purpose of all elements of the Service Value Chain)
The most important stuff
---
Here are key definitions you should know before attempting the ITIL4 Foundation exam:
Service / Service Management
Cost / Utility / Warranty / Value
Customer / Stakeholder / User / Sponsor
Organization
Output vs. Outcome
Risk
For a more comprehensive list of terms, you can refer to the official ITIL 4 Foundation Glossary.
Purpose statements
Out of the 34 ITIL 4 Practices, only 15 are relevant for the ITIL 4 Foundation exam. For a quick overview of all the purpose statements, please have a look at this article. Overall, you will receive 5 questions about the purpose of the following practices:
Change enablement
Continual improvement
Deployment management
Incident management
Information security management
IT asset management
Monitoring and event management
Problem management
Relationship management
Release management
Service configuration management
Service desk
Service level management
Service request management
Supplier management
Deep understanding of practices
The following 7 practices can be seen as one of the central parts of the exam, as overall 17 questions will be asked about them. These practices are:
Change enablement
Continual improvement
Incident management
Problem management
Service desk
Service level management
Service request management
As you can see, more than half of all questions, 22 overall, will be about the practices and the rest will be about the terms, definitions, the Service Value System and the Service Value Chain.
Download the official ITIL 4 Foundation Syllabus
---
You can download the official ITIL 4 Foundation Syllabus in three languages with below links.
ITIL 4 Foundation Exam Preparation
---
To help you to get the best possible preparation for the ITIL 4 Foundation exam, we have several additional resources available. Just click in the icons to access them.
Our ITIL 4 Foundation eLearning has an excellent value for money with high quality videos, hundreds of mock questions and a very competitive price. Passing the ITIL 4 Foundation exam has never been so easy with it!
Conclusion
---
Thank you very much for reading our article. We hope that it helped you gain a better understanding of the ITIL 4 Foundation Syllabus and exam.
Should you have any questions, please feel free to reach out to us with the "Contact Us" button below, or leave a comment and we will get bach to you.