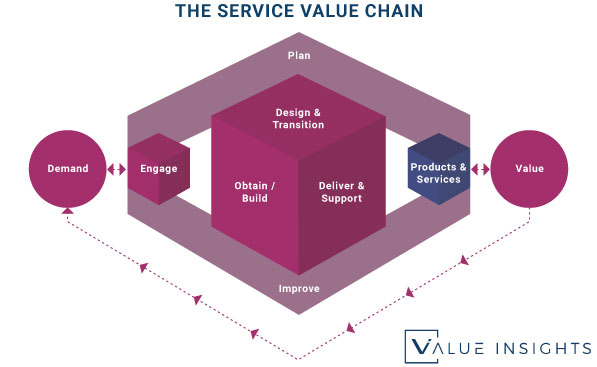 What is the ITIL 4 Service Value Chain?
---
One of the new elements that can be found in the ITIL 4 framework is the Service Value Chain (SVC) and this article aims to give you a deeper understanding of what it is and how to utilize it.
AXELOS – who develops and promotes ITIL – defines it as:
"An operating model for service providers that covers all the key activities required to effectively manage products and services."
ITIL basically says, that any Service Provider organization should execute the high-level activities described below to transform any kind of internal or external demand into products and services that are valuable to customers and stakeholders. But "wait a second" you say…."the ITIL v3 Service Life-Cycle did the same thing" you say…."so why do we need something new?"
Well, that is indeed a very good question and here is my answer:
The Life-Cycle model from ITIL v3 was revolutionary at the time (2007), but it had a very linear look and feel to it. First you needed a customer / market strategy, then you did a whole lot of planning and tried to create designs. Once done, you would try to build and release all that designed stuff, then you would operate it while trying to continuously improve it… Basically, a phased and sequential approach. This approach on paper did not look bad, not bad at all. But in reality, it was like a one-way street when there was actually much more interaction between its elements.
The Transition phase always has a back-and-forth with the Design phase with Operation providing feedback. In the meantime new strategies are influenced by live services and Continual Improvement happens everywhere and all the time.
Nevertheless, our current world and level of market competitiveness requires now a much more – let's say it out loud – Agile approach with much higher levels of flexibility and thus, the Service Value Chain was born.
The Service Value Chain Activities a.k.a. PIEDOD
---
The Service Value Chain is part of a bigger logical structure called the Service Value System (might be good to remember for the ITIL exam 🙂 ) and it contains six quite generic activities. Many of you might think it is a bit too generic (including myself), however, we should not forget that ITIL is not prescriptive. It tells us what should be in place for success, but it is not guaranteed as the exact context of our situation is something we need to figure out. And the activities in the SVC are kept at this generic level to allow us the necessary flexibility we need in our ever-changing business and IT environments.
So, let's see what those activities are:
PLAN
Planning is an inevitable task, except when you are acting in a Chaotic environment according to the the Cynefin framework, because there you would first fight the fires. In any other situation you need some level of planning, but the extent of it is up for decision.
In a complex environment, with a high level of uncertainty, where changes happen often and quickly, it might be better to choose an Agile planning approach like described in Scrum.
On the other hand, in more rigid or highly regulated environments like governments or the pharma / food industry, it might be better to apply a planning approach which tries to define more details already in the beginning of a project or service delivery partnership.
But keep in mind, that this is not black or white. We have seen Agile in governments, the pharma industry and even in Saab (the fighter jet manufacturing branch)…Yes, no kidding. They build modular fighter jets with Scrum. But, we have also seen the traditional waterfall approach in software development companies, where Agile could have been a perfect fit, but instead PRINCE 2 or similar methodologies were used successfully.
IMPROVE
Everything, everyone, anything and anyone can and should be improved continuously and relentlessly. There is no such thing as the perfect solution / service / product or relationship. And this is exactly, why we should always strive to do better than we did before. Even if it just something small, which seems irrelevant at that time. It might still have a huge impact later, down the road.
Improvement must happen on all organizational levels, beginning with the leadership, which should promote a mindset of Continual Improvement. Managers should not stand in the way of innovation just because "Why change?…It has been working fine like this in the last 20 years…". Sounds familiar?
But it is not a sole responsibility of management to improve stuff. The strategic and operational levels of the organization also need to take care of their own part, improving infrastructure, practices and work instructions that are applied on a daily level.
It is most important to keep a holistic view on things and not only thinking about our own team / organization, but thinking about how we can make the whole company better. And last but not least, start doing instead of thinking and planning endlessly.
ENGAGE
This is one of the activities that can be found in Value Streams much more often than the others. And that is because in a Service Relationship we engage all the time with different stakeholders in different forms.
It can be a customer, who visits our webpage to check out our offering. It can be a user, who calls the Service Desk to order a new toner for the printer. Or it could also be our Service Manager, who meets with the customer's business manager to discuss the high-level features of a new service to be offered.
Our task is to understand where engagement happens, who the interested parties are, what the best channels are and what the actual value and goal of that engagement is.
DESIGN & TRANSITION
This activity tries to ensure that services and products delivered by the Service Provider meet the current and ideally even the future expectations of customers and stakeholders in terms of quality, cost, time to market or any other perspective that is important to them.
Most of the input for Design & Transition comes from Engage in the form of user and customer requirements, but some might also come from Improve if new ideas for improvement need to be realized. These will provide specifications to the activity Obtain / Build.
One of the outputs of Design & Transition are user friendly and cost efficient designs for new and changed services / products, which will be handled by the Deliver & Support activity after they have been released to the live production environment.
OBTAIN / BUILD
The name of this activity speaks for itself, I believe. Nevertheless, let me quickly explain what it is about.
Oftentimes, during the development of a new service or the delivery and modification of existing services, we need components to complete our work. These might be software as well as hardware. Whatever it is we need, we should consider the Four Dimensions of Service Management (VOIP – Value Streams and Processes, Organization and People, Information and Technology, Partners and Suppliers) to decide if we should buy or obtain something from a third party vendor or if we should try to build it on our own.
This decision mostly depends on the capabilities we as a Service Provider organization possess. An economical view should be taken and stuff should only be built by our organization if it can be done within reasonable timely and financial limits.
Think about it. If you want to build a new Service Desk, you would probably not try to build the phones or computers they will use from scratch on your own, right?
DELIVER & SUPPORT
That is the fun part of our Service Value Chain. Within this activity it turns out how well we are doing as a Service Provider. This is the place and time where most of the value co-creation (hopefully) happens.
Services and products that have been planned, designed, obtained and built are now supported and kept running according to the specifications (SLAs) defined together with the customers. This activity has a strong link to the Improve activity, as we will often find improvement opportunities while running and supporting services. It also has a link to the Engage activity because any support related action usually starts with some kind of engagement, usually from the user's end (but not only).
One could say that this is the Service Value Chain activity, which provides the value to the users and customers, but this statement would not be entirely true. That is because all activities add to the overall value that is co-created. Each activity has its right place and time within the Value Streams we define, but Deliver & Support is where most of the user interactions happen.
Each of the activities can interact with different other activities depending on how we map our Value Streams. For example, if we create a Value Stream for "Handling user Incidents", we will see that it probably starts with (1) Engage, as the user notifies the Service Desk about an issue. Then, perhaps, the Service Desk tries to solve the issue, which is the (2) Deliver & Support activity. It could be that the issue can only be solved by implementing a Change to the service, which would first be (3) Plan, then (4) Design & Transition and it might even include (5) Obtain / Build if we need to buy or build something. And last but not least, we probably have some (6) Engage again, as the Service Desk tries to verify with the user if the solution works as expected.
But, don't forget…this is only an example and the mapping of Value Streams needs to be done within your organization including all relevant individuals, roles and functions (like support techies, engineers, developers, architects, business users, etc…).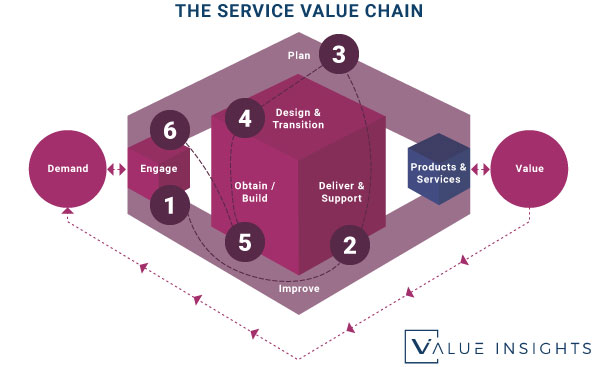 The ITIL 4 Service Value Chain is the core element of the Service Value System. It is an operating model detailing six activities (PIEDOD…also meaning sorry in Latvian 🙂 ) that can be utilized while mapping Value Streams.
Each organization should involve the needed individuals to run this exercise at least for the most important Value Streams at first, then expanding the portfolio over time.
The activities can be configured in any order, completely depending on the needs of the customer or other stakeholders, thus providing the needed flexibility and agility, which can give us an edge on the ever-changing, high-paced market of competitive business solutions.
For a short overview of the topics, you can also have a look at these dedicated videos from our ITIL 4 Foundation exam preparation video series on YouTube.
Feedback
We would also appreciate if you would let us know what you think about this article or what other topics you would like to read about.
Leave us a comment below, contact us or find us on LinkedIn. Thank you!
Check out our latest blog posts
---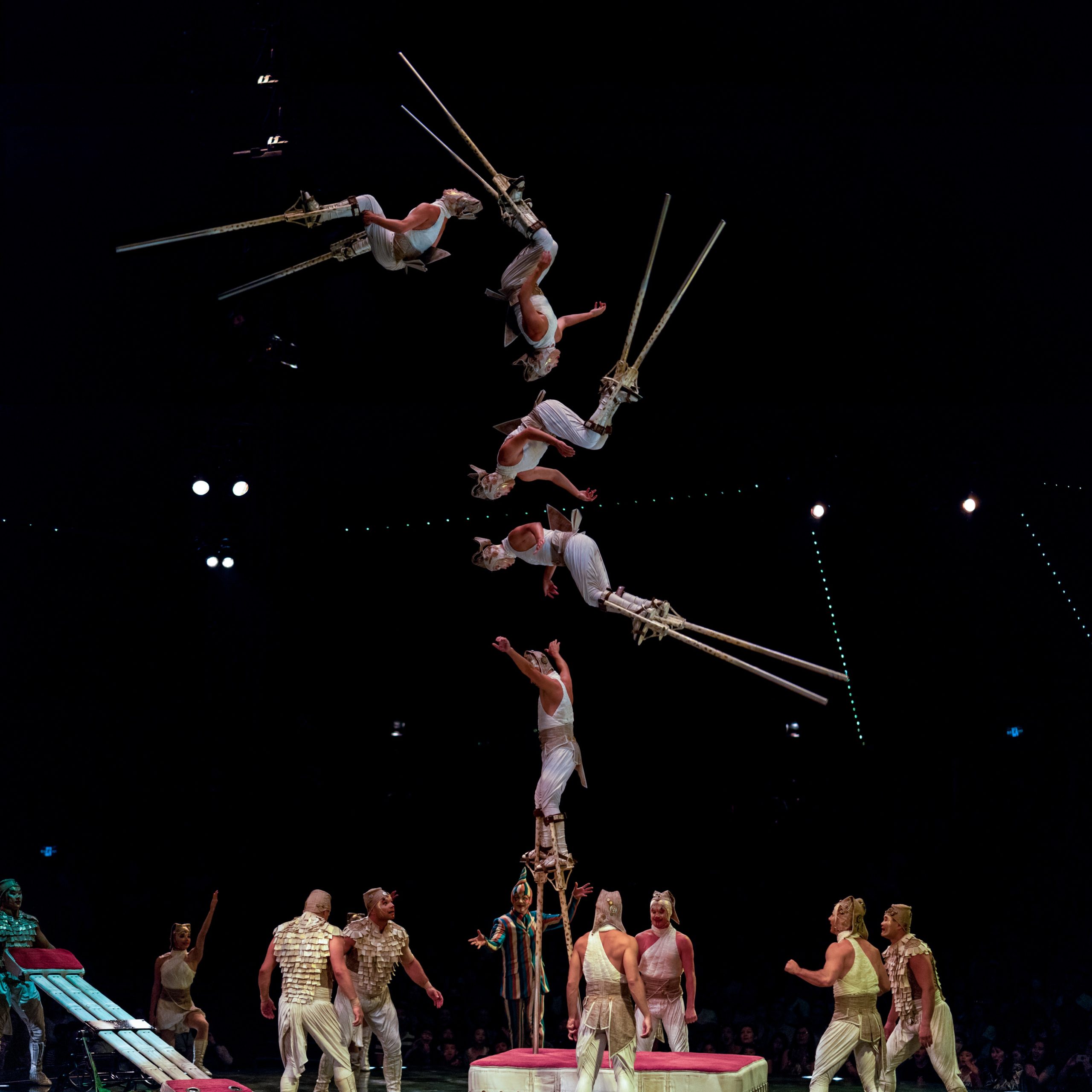 By ValueInsights
/ 17.05.2023
Discover in this post the various Scrum, Agile bodies, organizations and institutes. Include rankings on pricing, offerings and credibility. Table...
Read More