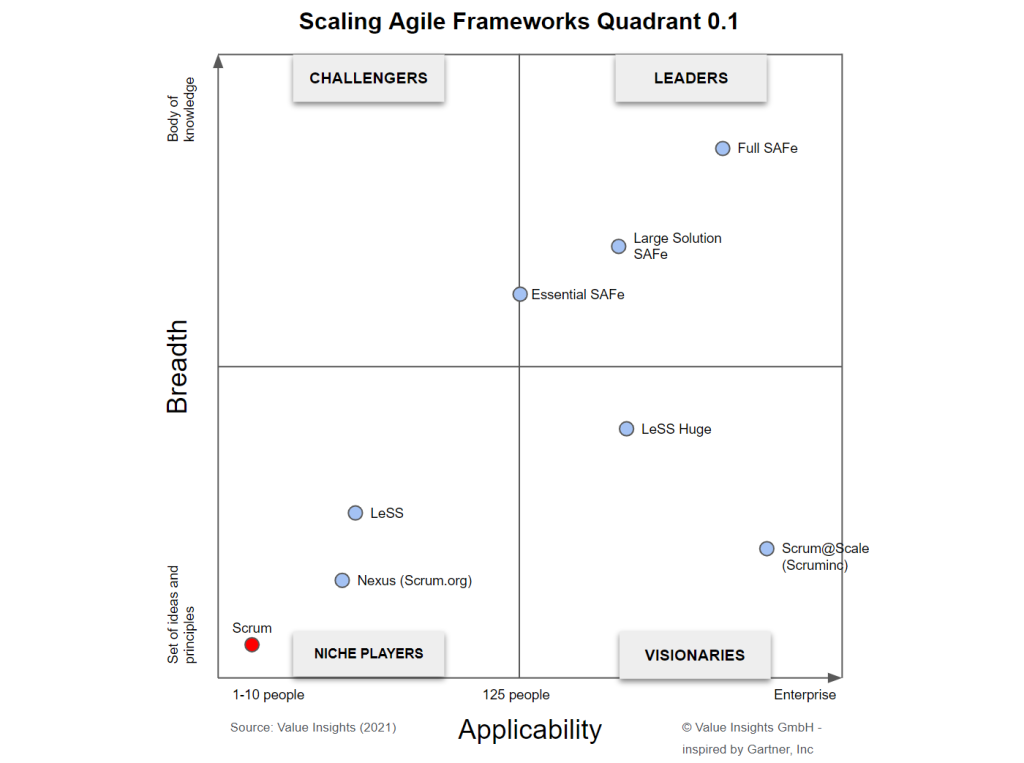 Scaling Agile frameworks comparison
A comparison of the scaling Agile frameworks available on the market based on a quadrant inspired by Gartner.
Dimensions:
Applicability (X-Axis). Reflect the potential coverage of the framework in an enterprise context. The higher the value, the more the scope of framework can be applied to an entire enterprise or large company
Breadth (Y-Axis). Reflect the quantity of values, principles, artifacts, rules and knowledge available in those frameworks. The higher the value, the most comprehensive (and possibly restrictive) is the framework 
Key information:
Scrum is placed here as a comparison point ONLY in regards to team size applicability and coverage. Scrum is actually the most common Agile framework at team level worldwide
All scaling frameworks mentioned here build on Scrum and are therefore considered to have more breadth than Scrum. Additional values, principles, artifacts and rules are added on top of Scrum.
Comments:
Nexus is a simple framework which applies to 3 to 9 Scrum teams building a product. The definition of Nexus is contained in a 10 pages guide
LeSS is up to eight teams of 8 people each. Its core principles are described on the LeSS works website
LeSS huge is up to a few thousands people on one product
Scrum@Scale is applicable enterprise wide and intends to propagate Scrum to the entire organization for the creation of products, processes, services, and systems that require the efforts of multiple teams
SAFe propose several configurations. Its most basic structure (Essential SAFe is for up to 125 people building one product while its most extensive one (Full SAFe) can apply enterprise wide
The ranking provided here is based on the author's scaling frameworks knowledge and experience as well as information publicly available regarding those frameworks.
For more information on those frameworks and the principles on how they are built, you can refer to:
Relevant sources:
Check out our latest blog posts
---
.