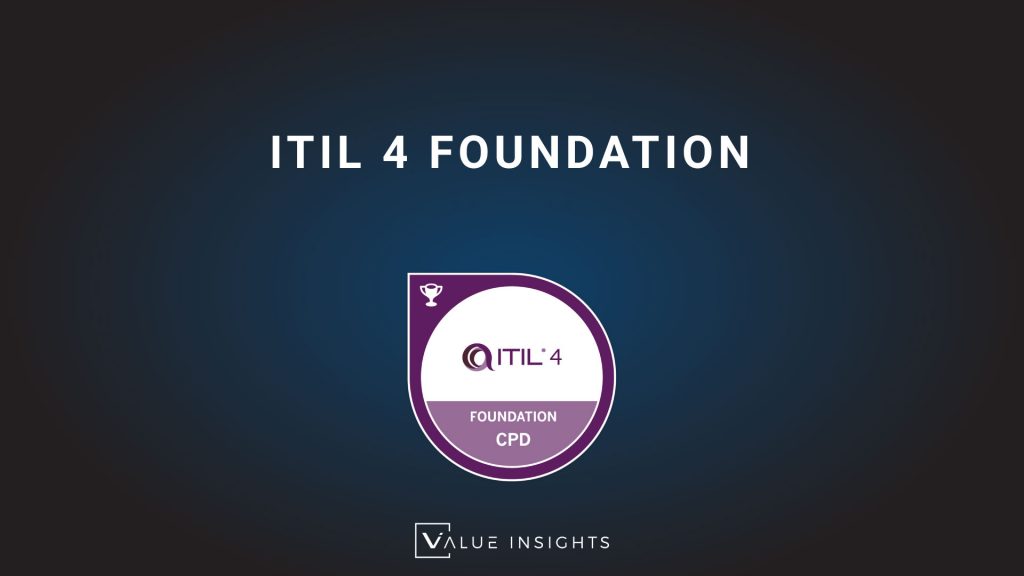 Passing the official ITIL 4 Foundation exam
---
The ITIL 4 Foundation certification is one of the most sought-after ones you can think of. It has its foundations in the IT industry, but with the latest release, ITIL 4, it is wide open for the application in any industry, branch or sector.
Since it has such a huge success and since it is one of the best additions to your resume, I have decided to create this complete guide, to walk you through your ITIL 4 journey.
The first thing is probably taking a course 😊 Seems obvious, but you don't necessarily need to take one to attempt the official ITIL 4 Foundation exam. You could just buy the book or prepare in any other way, however, that is not always ideal.
So, should you be interested in an accredited ITIL 4 Foundation course, have a look at our event calendar (we can deliver in-person courses in and around Switzerland and online courses).
To learn more about the exam structure, type of questions and other details, please have a look at our exam preparation article.
The ITIL 4 Big Picture
---
Since it might be hard to get an overview of all the important components of ITIL 4, we have dedicated some time to create an ITIL 4 Big Picture.
It is an interactive image, which allows you to click on the individual items, leading you to a dedicated article on that topics.
Some of the items are already available (as of July 2020), however, as it is one of our biggest projects at Value Insights and will take some time to complete, we ask for your patience.
In the meantime, you can check out all other resources mentioned in this article.
Check your knowledge with our ITIL 4 Foundation online quiz
---
I am sure that you have what it takes to pass the exam, nevertheless, you can try our ITIL 4 Foundation Quiz below to see where you are in terms of understanding the topic.
You will get 20 questions and need 13 correct (that is 65%, like on the official exam) to pass.
Try the ITIL 4 Foundation Quiz
Download our free ITIL 4 Foundation mock exam questions
---
If you want to get some additional questions, you can also sign up with you email address for our ITIL 4 mock exam questions and answers.
After submission, we will send you an email to the address you provided with the link for the download of the PDF file.
The file contains 40 multiple-choice questions in the same style as the official ITIL 4 Foundation exam questions. Furthermore, it also contains the correct answers and the explanations for each.
If you prefer videos over long readings and if you want to get a distilled version of the ITIL 4 Foundation topics, you might want to have a look at our ITIL 4 Foundation Exam Preparation Videos on YouTube.
It is a series of 29 short videos, with each one only a couple of minutes. The topics have been divided into smaller chunks, as I believe that this modular approach supports a better comprehension of the matter.
Feel free to have a look and decide for yourself if you like it. If so, I would love to hear from you either in the comments section or on LinkedIn (and feel free to share them with your network 😊 )
Download our hand-picked ITIL 4 Foundation practice exam questions and answers
---
You can download our hand-crafted ITIL 4 Foundation practice exam questions and answers packages as well. The questions are based on the official material and resemble the actual questions you might get during the official exam. The 280 questions package includes all questions from the 160 package and another 120 on top of that.
If you want to make sure that you have done the best possible preparation, do not hesitate to request the ZIP files by placing your order with the buttons below.
The file contains the questions, their answers, and as a bonus, an Excel file, which you can use to track your answers and to automatically see if they were right or wrong.
If needed, you can also print the mock exam questions in high quality for practicing offline.
Learn how to take the ITIL 4 Foundation exam online
---
There are different ways to take the exam:
You could go to any official exam provider and do the exam electronically or on paper at their location
Since we are accredited proctors, you can also ask us to come to your office for a fee (you can contact us HERE for more details)

This only applies in and around Basel (Switzerland)
And only if you have more colleagues wanting to take the exam

The best option is to take the exam online, from the comfort of your home
Check out our article HERE to learn more about the PeopleCert online exams
Last but not least, you should claim your well-deserved ITIL 4 Foundation digital badge, which is a great addition to your resume and social media pages (e.g. LinkedIn)
It is a great display of skill and dedication, which will help you differentiate yourself from other professionals on the job market.
Learn in our dedicated article how to claim your ITIL 4 Foundation badge.
The next steps of your ITIL 4 journey
---
After competing the ITIL 4 Foundation certification, you have a number of choices to continue your adventure.
The official ITIL 4 Certification Scheme gives you a nice overview, but allow me to summarize it here as well.
You can go two directions: ITIL 4 Managing Professional and ITIL 4 Strategic Leader
To achieve the Managing Professional dedication, you have two options as well:

If you have enough credits (17) from ITIL v3, you can attend the ITIL 4 MPT (Managing Professional Transition) and become a Managing Professional
Otherwise, you need to complete the following ITIL 4 advanced courses: Create Deliver and Support, Drive Stakeholder Value, High Velocity IT and Direct Plan and Improve

To achieve the Strategic Leader dedication, you need to complete two of the advanced ITIL 4 certificates: Direct Plan and Improve and Digital & IT Strategy
You can see that the Direct Plan and Improve appears in both dedications, so it is enough to complete that one time 😊
Once you are ITIL 4 Managing Professional and Strategic Leader you will be able to apply for the ITIL Master dedication (but that is not available yet as of July 2020)
Hopefully, this articled helped you get a better understanding about your ITIL 4 journey and motivates you to jump into the whole new world of modern Service Management based on Lean and Agile principles.
Do you have any feedback? We would love to hear from you so let us know in the comments below.
Check out our latest blog posts
---