LEADING SAFE TRAINING – BASEL
March 10/11, 2021
14 hours
Delivered in 2 days 09:00-17:00 GMT+1
CHF 1700
Including the course slides, exam and certification
On-Site class
This course will be delivered in Basel, Switzerland
Officially accredited
One take at the official exam with Scaled Agile, Inc.
English
The course will be delivered in English
THE COMPANY
We are a small training company passionate about Agility and Service Management, caring about every attendee, and not just a huge training corporation who sends a different random trainer from LinkedIn to every course.
Officially accredited
All our courses are officially accredited and prepare you to pass the official exams
Customer care
We care for every attendee and listen to your needs throughout the whole course
Exam included
The course fee includes one try at the official exam with Scaled Agile, Inc. (100 USD)
30 Days Q&A
We offer a follow up repetition call after the course and 30 days of Q&A
THE TRAINERS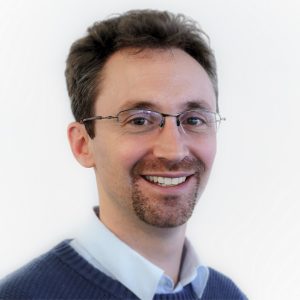 ROMARIC CHARDONNEAU
Agile Coach and SAFe Program Consultant
I am an experienced Agile coach and trainer passionate about Agile at team (Scrum, Kanban, XP…) and at scaled level (SAFe, Nexus, Scrum@Scale…). I have 15+ years experience as project, program and portfolio management, product management, software development and IT supply chain. Currently working in one of the largest pharmaceutical companies in the world, I have led and managed teams of various sizes in different geographical locations (China, Singapore, Switzerland) throughout my career. Delivering Agile trainings is one of my favorite activity and it is well reflected by the feedback delivered by my classes' attendees. Agile is not anymore a buzzword, it is used everywhere and the difference between the best and the worst is in how good it is applied. On this part, my trainings can certainly help you!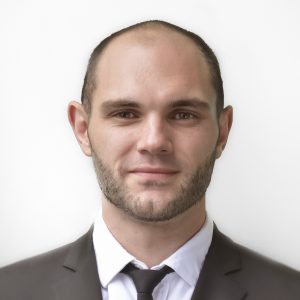 ALEXANDER SCHMIDT
ITIL 4 Managing Professional and SAFe Program Consultant
Being an ITIL 4 trainer is one of my big passions, especially since the framework started incorporating Lean-Agile principles. I have been working in the IT departments of logistic and pharma companies and shared service centers since 2008. Throughout my career, I had the pleasure to train and certify close to 500 individuals. I have always utilized the given guidance in my various roles (Strategy and Design Service Manager, Service Delivery Manager, ITSM Team Lead) and projects, like the implementation of a global ticketing tool or the design and rollout of global practices. Anybody attending my courses will experience the enthusiasm and passion I have for these topics, which will hopefully motivate them to apply the framework in their lives.
THE COURSE
The course will be delivered on-site in Basel, Switzerland. We will have sessions of approx. 1,5 hours, but this also depends on the class dynamics. If we see you falling apart, we can put in additional breaks 🙂
The course also includes various games and activities to loosen up the theoretical material and help you gain a deeper understanding of the matter.
Below are some impressions from our courses. Hope you like it.
COURSE FACTS
Course Content
In this course, you will learn:
What SAFe is, its various components and the value it can bring to an enterprise
What Business Agility, Customer Centricity and Design Thinking mean
How to become a lean-agile leader
How to scale Agile across the enterprise
Link your strategy to portfolio, programs and teams with Lean Portfolio Management
You can also watch this short video!
What You Get
Printed Manual
You receive a printed and bound black and white copy of the course manual.
Soft Copy
You will receive the manual and other course material in PDF format for personal use.

Exam
The official Leading SAFe exam with Scaled Agile is included in the price.
Certificate
The SAFe Agilist certificate will be available for download in PDF format after passing the exam. A certificate of attendance is also available once registration has been completed by your instructor.
Digital Badge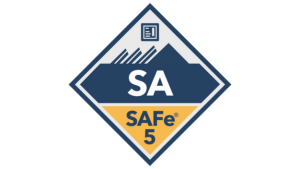 The digital badge will be available through Acclaim for sharing on LinkedIn or other social media pages and download in PNG format after passing the exam.
Online Resources
Attendees, who pass the exam get a one-year subscription to the Scaled Agile Framework platform provided by Scaled Agile Inc., allowing them to access videos, templates, white papers and other useful resources.
Catering
Snacks and drinks during the breaks and lunch will be provided on both days of the training.

Target Audience
This training is open to all, the following roles are the ones who can expect the most benefits from this course:
Executives and Leaders, Managers, Directors, CIOs, and VPs
Development, QA, and Infrastructure Management
Program and Project Managers
Product and Product Line Management
Portfolio Managers, PMO, and Process Leads
Enterprise, System, and Solution Architects
ADDITIONAL QUESTIONS?
F.A.Q.
Are there any prerequisites to attend the course?
All are welcome to attend the course, regardless of experience. Familiarity with Agile and Lean concepts and practices is nevertheless helpful in order to pass the exam and related certification.
What if the course in cancelled?
Should we cancel the course due to unforeseen circumstances, you are entitled to a full refund of the paid price.
What if I need to cancel my attendance?
Until 15 days before the course start a cancellation is possible via email with no further fees.
After this period, following applies:
Change of participant – Free

Change to another course – 10% of course fee is charged in addition

Cancellation or Absence — No refund is possible
More details can be found on Section 4 of our General Terms and Conditions.
What is SAFe?
SAFe is the world's leading framework for scaling Agile across the enterprise. SAFe® for Lean Enterprises is a knowledge base of proven, integrated principles, practices, and competencies for Lean, Agile, and DevOps. It uses components of Scrum, Kanban and eXtreme Programming (XP) among others for a powerful combination.
How long is the certificate valid?
The SAFe Agilist certificate is valid for a year. After the one year period, you should apply for renewal with a nominal renewal fee of 100 USD to be paid directly to Scaled Agile.
When shall I arrive at the venue?
Best would be 15 minutes before the course start, but you can arrive a bit earlier to do some networking.
How do I get my digital badge?
After attending the course, we will create your user accounts on the Scaled Agile Platform, where you can find:
The digital course slides in PDF format

The official study guide, containing specific links to the Scaled Agile Framework Knowledge Base for additional reading

The mock exam questions, which you can try as often as you like

And the link to the official exam
Once you have passed the exam, you will receive an e-mail from Scaled Agile with the link to the Acclaim portal, where you need to create an account before accepting your well-deserved digital badge.
If you want to find out more about digital badges, please read our dedicated article.
Who should I call in case I have issues?
Do you have any other question?
Can this course be delivered on-site, at my offices?
Complete the form below and we will send you further details along with the invoice, which can be paid by bank transfer.