ITIL 4 FOUNDATION ONLINE TRAINING
February 6/13/20/27, 2021
14 hours
Delivered on 4 Saturdays 14:00-17:30 GMT+1
CHF 900
Including the course slides, exam and certification
Online class
This course will be delivered with Google Meet
Officially accredited
One take at the official exam with PeopleCert
English
The course will be delivered in English
THE COMPANY
We are a small training company passionate about Agility and Service Management, caring about every attendee, and not just a huge training corporation who sends a different random trainer from LinkedIn to every course.
Officially accredited
All our courses are officially accredited and prepare you to pass the official exams
Customer care
We care for every attendee and listen to your needs throughout the whole course
Exam included
The course fee includes one try at the official online exam with PeopleCert (300 USD)
30 Days Q&A
We offer a follow up repetition call after the course and 30 days of Q&A
THE TRAINER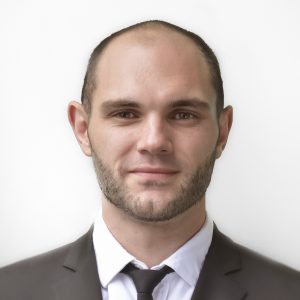 ALEXANDER SCHMIDT
ITIL 4 Managing Professional and Trainer
Being an ITIL 4 trainer is one of my big passions, especially since the framework started incorporating Lean-Agile principles. I have been working in the IT departments of logistic and pharma companies and shared service centers since 2008. Throughout my career, I had the pleasure to train and certify close to 500 individuals. I have always utilized the given guidance in my various roles (Strategy and Design Service Manager, Service Delivery Manager, ITSM Team Lead) and projects, like the implementation of a global ticketing tool or the design and rollout of global practices. Anybody attending my courses will experience the enthusiasm and passion I have for these topics, which will hopefully motivate them to apply the framework in their lives.
THE COURSE
The course will be done through Google Meet, which allows us video conferencing and sharing our presentation slides. Besides that, we will use additional tool like Kahoot for games.
Each session will be 3,5 hours, which also includes a 15 minutes break , but if we see you falling apart, we can have one more 🙂
Below are some impressions from our courses. Hope you like it.
COURSE FACTS
Course Content
In this course, you will learn about:
A holistic approach to the facilitation of co-creation of value with customers and other stakeholders in the form of products and services
The guiding principles of ITIL 4
The four dimensions of Service Management
Key concepts from Lean, Agile, DevOps, and why these are important to deliver business value
How ITIL 4 practices describe modern Service Management
You can also watch this short video!
What You Get
Soft Copy
You will receive the manual and other course material in PDF format for personal use.

Exam
The official ITIL 4 Foundation exam with Peoplecert.org is included in the price.
Certificate
The certificate will be available for download in PDF format after passing the exam.
Digital Badge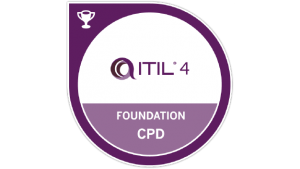 The digital badge will be available through Acclaim for sharing on LinkedIn or other social media pages and download in PNG format after passing the exam.
Online Resources
Attendees, who pass the exam get a one-year subscription to the MyITIL platform provided by AXELOS, allowing them to access videos, templates, white papers and other useful Service Management resources.
Target Audience
Those who require a basic understanding of the ITIL framework and those who want to understand how ITIL can be used to enhance IT service management IT professionals or others working within an organization that has adopted ITIL.
ADDITIONAL QUESTIONS?
F.A.Q.
What if the course in cancelled?
Should we cancel the course due to unforeseen circumstances, you are entitled to a full refund of the paid price.
What if I need to cancel my attendance?
Until 15 days before the course start a cancellation is possible via email with no further fees.
After this period, following applies:
Change of participant – Free

Change to another course – 10% of course fee is charged in addition

Cancellation or Absence — No refund is possible
More details can be found on Section 4 of our General Terms and Conditions.
What is ITIL 4?
ITIL 4 is the latest release of the globally acknowledged IT Infrastructure Library framework. It provides guidance to businesses and individuals on how to use modern IT Service Management practices combined with an Agile mindset to meet ever-changing business needs and deliver value to its users. ITIL is supported by a comprehensive certification scheme, which spans knowledge from the principles to how the entire framework fits together.
How long is the certificate valid?
The ITIL 4 Foundation certificate does not expire at all.
When shall I join the online meeting?
Best would be 15 minutes before the course start, to ensure enough time for possible troubleshooting, but you can arrive a bit earlier to do some networking.
How do I get my digital badge?
After successfully passing the exam, you will receive an e-mail from AXELOS with the next steps, which include:
Creating an account on the AXELOS platform
Signing up for a one-year subscription for MyITIL (included in the course price)
Creating an account on the Acclaim platform

And last but not least, Accepting your badge
A more detailed explanation can be found in our dedicated article.
Who should I call in case I have issues?
Do you have any other question?
Can this course be delivered on-site, at my offices?
Complete the form below and we will send you further details along with the invoice, which can be paid by bank transfer.