Is the Professional Scrum Master II (PSM II) exam hard?
---
Everything is relative and all depends on your knowledge and Scrum experience. In my personal view, the Professional Scrum Master II exam is not difficult. Why?
The situations are well stated/well explained and not confusing
You have several clear proposed answers without much ambiguity (some are clear no, other clear yes, some need you to think a little bit)
You have sufficient time to answer all the questions (90 minutes for 30 questions which is way much more than the PSM I)
As long as you know the rules to abide to when going through the questions (see tips), you should be fine
As a word of caution though, you may or even will experience difficulties to pass if:
You do not have much experience as a Scrum Master (less than 2 years)
You have not been applying Scrum properly at work and have not been considering Scrum theory and principles lately
You have not joined a proper Scrum training from an accredited trainer, be it in the past or just for this exam
You have no experience of fundamental knowledge of scaling Agile (you can review this scaling Agile article to help you)
So yes, there is a potential to fail on the PSM II exam and actually, you can even fail big time. Which begets the question: do you actually need it?
Is the Professional Scrum Master II (PSM II) certification worth it?
---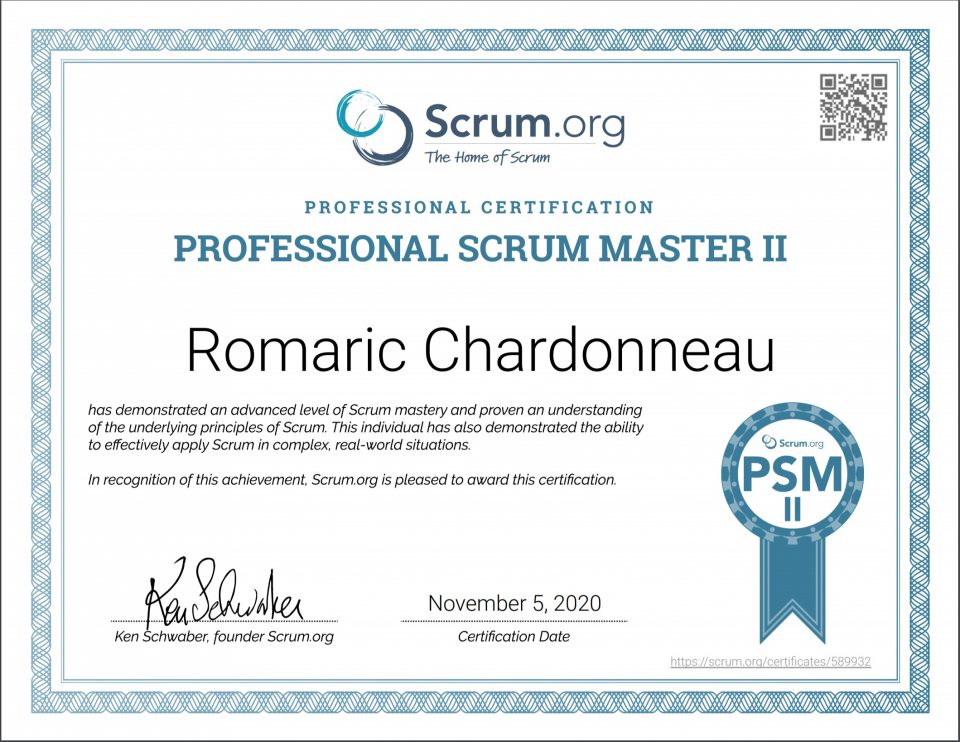 One of the reason you may want to acquire the PSM II could be hiring prospects. That sounds like a valid view. However, I personally do not think that recruiters make much difference between a PSM I and a PSM II. I do interview Agile coach/Scrum Masters on a regular basis and it actually does not make a difference to me (PSM III is a different ball game though).
So if it the PSM II is not going to make yourself more marketable then what?
Actually, you probably would want to consider PSM II if:
You are on the path of continuous self-improvement and/or you are an avid learner of Agile/Scrum
The PSM II is indeed a nice milestone on your learning journey
You would like to become a Scrum.org trainer as one of the criteria is to hold the PSMI, PSMII and PSMIII with scores of 95%, 85% and 90% minimum respectively.
So with those two great reasons in mind, let's go on to see the tips to pass the exam…
Practice tips for passing the Professional Scrum Master II (PSMII) exam
---
In order to pass the PSM II, those would be my recommendations:
(re)Read the Scrum Guide. It is obvious but so much is in the Scrum guide. Actually, some people says that everything is there which is not entirely true… 🙂 Read it top to bottom and try to understand all the nuances and logic behind it.
Read the Nexus Guide. There are quite a few questions related to scaling in the PSM II. If you do not know how to scale and if you do not know the Scrum.org version of it – that is Nexus – you are putting yourself at risk. Do not make this mistake and ensure you understand scaling and particularly Nexus.
Take and re-take the various Scrum assessments from Scrum.org. The most relevant one would be Scrum Open, Product Owner Open and Nexus Open. Take them all in row till you are able to score 100% in each of them and that you understand the logic behind each of the answers. This will help you review the basics and you might even get one or two very similar questions in the PSM II
Think hard about the role of a Scrum Master. The Scrum Master is a servant leader to the Scrum team. He/she is also a coach and provide services to the development team, the product owner AND the organisation. Remember: the Scrum Master is NOT a manager. Hence, from the Scrum guide we have: "No one (not even the Scrum Master) tells the Development Team how to turn Product Backlog into Increments of potentially releasable functionality." If you understand the role of the Scrum Master in and out, you will get hold of the PSM II!
Get some experience as acting Scrum Master. It would be much better – although not mandatory – for aspiring holders to have at least 1 or 2 years of experience as acting Scrum Master. You would have then had the time to practice Scrum and compare reality vs theory. Remember though during the exam that you should give the ideal answers and not the one(s) you would possibly take within your environment and experience.
Understand scaling models. A proper understanding of scaling is an advantage. In this regard, it might be useful to pass the Scaled Professional Scrum (SPS) exam before the PSM II. I actually passed the SPS before the PSM II. My preparation for the SPS was simply to read the Nexus guide and take the Nexus Open assessment. The rest was eased due to the fact that I had relevant scaling work and training experience with SAFe. Important: SAFe and Nexus are very different beasts so please make sure you get Scrum.org scaling principles right before taking the PSM II.
Et voila!
That is not a huge list of tips but this is all what you should need. It is that simple!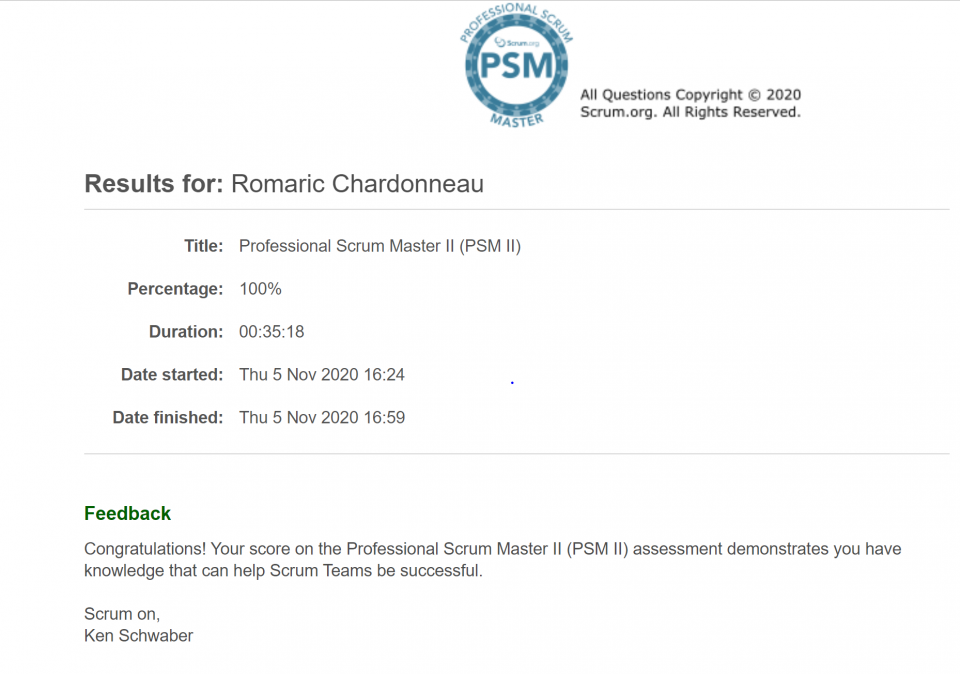 To tell you my story: before passing the PSM II, I was actually extremely nervous and thought that it was a very very tough exam. Thinking that I would need some preparation and thanks to a generous former employer, I did join a PSM II training for preparation (lol). I would love to tell you that this training prepared me to pass the exam but minus one clarification point on Scrum which pertained to a difference between the Scrum guide 2017 and earlier versions, it was of no use.
That is not to say that PSM II trainings are useless, it all depends on your experience and knowledge as Scrum Master when you take on the training. The optimum time as advised by Scrum.org is to have a 1 to 2 years of experience as Scrum Master to reach the full benefits of a PSM II course. Before, it is too early and after, you probably know too much (providing you actively seek continuous self improvement as Scrum Master/Agile coach). Once you have the required knowledge and relevant experience, as long as you abide with the list of tips above, you should be just fine by taking the PSM II.
We hope that above will be of help to you and we wish you all the best to you in passing the PSM II!
Download our PSM practice exam question pack
---
You can download our hand-crafted Professional Scrum master I (PSM-I) practice exam questions and answers package as well. The questions are based on the latest 2020 version of the official Scrum Guide and resemble the actual questions you might get during the official exam. The packages includes 80 carefully written questions and their answers.
If you want to make sure that you have done the best possible preparation, do not hesitate to request the PDF file by placing your order with the button below. You can pay with PayPal and Credit / Debit Card, and you will receive the email with the download link directly after the payment.
If needed, you can also print the mock exam questions in high quality for practicing offline.
Feedback
We would also appreciate if you would let us know what you think about this article or what other topics you would like to read about.
Leave us a comment below, contact us or find us on LinkedIn.
You may also be interested by the following articles:
Check out our latest blog posts
---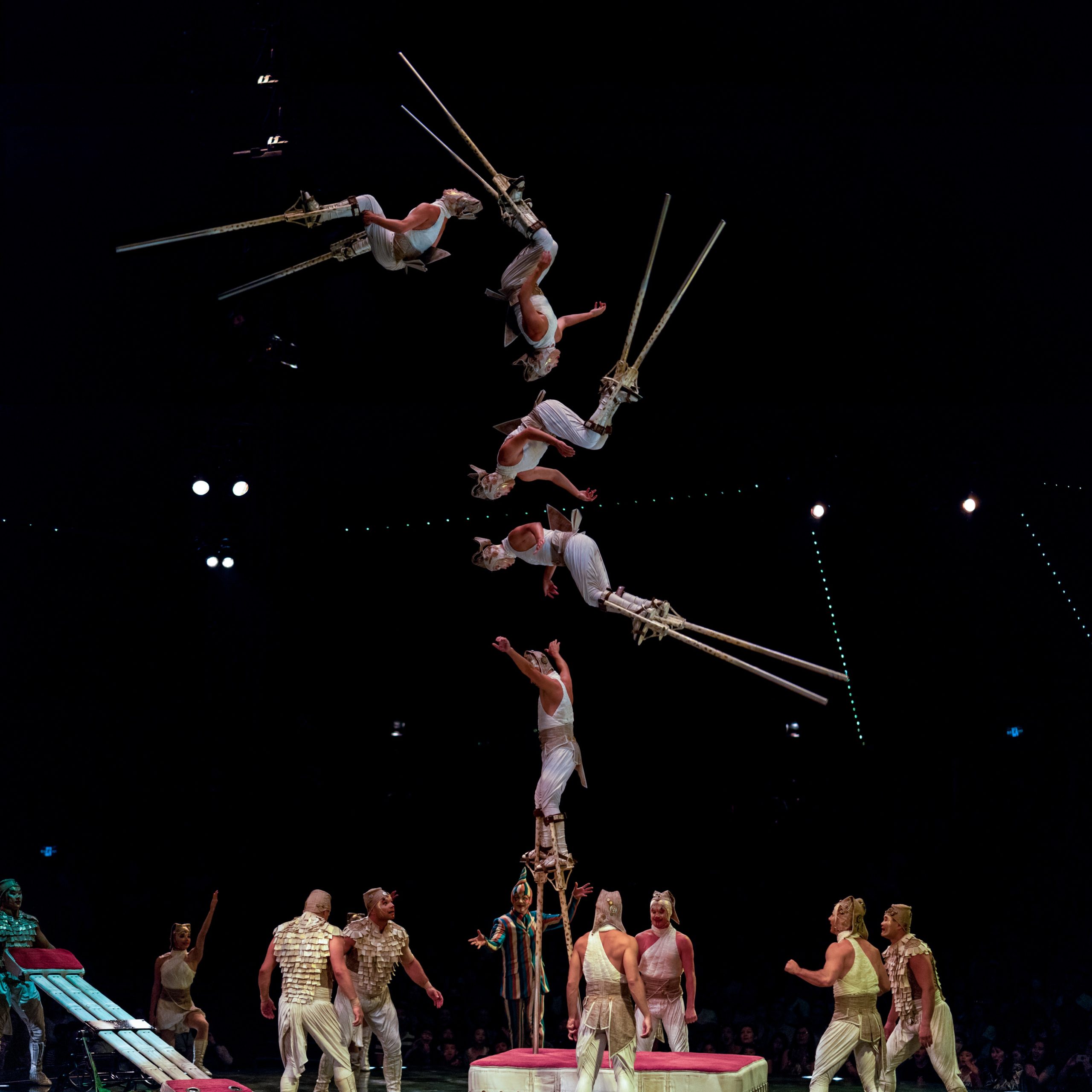 By ValueInsights
/ 17.05.2023
Discover in this post the various Scrum, Agile bodies, organizations and institutes. Include rankings on pricing, offerings and credibility. Table...
Read More